Premarital / Marital Counseling
And They Became One
A Premarital Foundation Course
---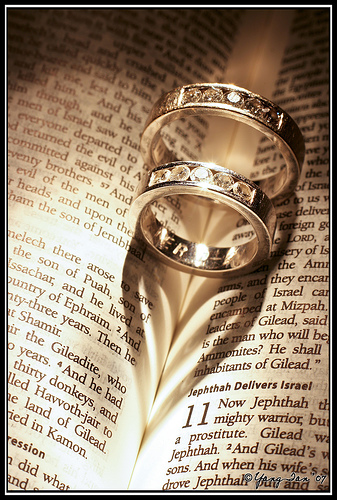 We know that God is the creator all, and that His Word (the Bible) is the final authority for all things concerning man. We know that God has a perfect design for marriage, and when followed will allow for man and wife a strong and lasting marriage.
We believe that couples should engage in premarital counseling before getting married, and is a prerequisite for our ministry to conduct the ceremony. Premarital counseling allows for the couple to learn the true expectations of marriage as God sees them.
A foundational scripture is Psalms 127:1 – "Unless the Lord builds the house, they labor in vain who build it." We know that if God is placed first in marriage, then the marriage is placed on a solid foundation.

Course Sessions
There are six (1 to 1.5 hour) sessions for this course:
Session 1: They Became One
God's true design for marriage.
Session 2: Who Wears the Pants?
The Man and Woman's Role in a Marriage
Session 3: He Said She Said
Communication and Conflict Resolution
Session 4: You Wanna Spend How Much?
God's financial plan for marriage
Session 5: Let's Get it On
Marital Intimacy (Sexual and Non-Sexual)
Renouncing Soul Ties
Session 6: We Are Family!
Dealing with Children, In-Laws, and everybody else
_________________________________________________________
For more information or to schedule an initial consultation, please contact us.